Responding to Pelosi's 'prison' remark, Democrats say Trump committed crimes
Comments
By Allan Smith and Alex Moe with NBC News Politics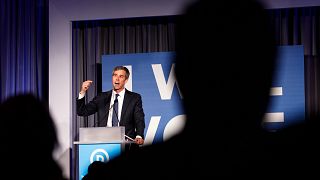 Copyright

Dustin Chambers Getty Images

-
Democratic presidential candidate Beto O'Rourke said Sunday that he believes President Donald Trump has committed crimes when he was asked about House Speaker Nancy Pelosi's recent comment that she would prefer to see Trump "in prison" than "see him impeached."
"He did," O'Rourke, a former House member from Texas, told ABC's "This Week" when asked about Pelosi's remark and whether he thought Trump had committed crimes that could be prosecuted. "I think that's clear from what we have learned from [special counsel Robert Mueller's] report, but I think those crimes might extend beyond what we've seen in the Mueller report."
Presented with Pelosi's comment on "Fox News Sunday," another Democrat, Rep. David Cicilline of Rhode Island, said Mueller's more than 400-page report on Russian interference in the 2016 election and whether Trump sought to obstruct the probe presented "specific things" Trump did that were "criminal acts."
"Look, I don't have any difficulty with those words," Cicilline said of Pelosi's comment. "I think what is really at stake here is the responsibility of the [House] Judiciary Committee to conduct oversight, to demonstrate to the American people that no one is above the law."
Cicilline, who sits on the committee, said the panel will "get to the truth."
Last week, Politico, citing multiple Democratic sources familiar with the matter, reported that Pelosi told top Democrats in a private meeting that she would prefer to see Trump "in prison," as opposed to impeached, clashing with House Judiciary Committee Chairman Jerrold Nadler, D-N.Y., over whether to open an impeachment inquiry — an idea Pelosi said she is still not open to.
A congressional aide who was in the room confirmed Pelosi's remark to NBC News, saying she said, "I don't want to see him impeached, I want to see him in prison." Pelosi said they should not proceed with impeachment because Democrats would be better off having Trump lose in 2020 and then be prosecuted, according to the aide, who added that Pelosi's remarks was "consistent with her position that he needs to be removed electorally in 2020."
After the Politico story broke, Pelosi spokeswoman Ashley Etienne told NBC News the speaker and the committee chairmen she met with "had a productive meeting about the state of play with the Mueller report."
"They agreed to keep all options on the table and continue to move forward with an aggressive hearing and legislative strategy, as early as next week, to address the president's corruption and abuses of power uncovered in the report," Etienne said.
In response to Pelosi's reported remarks, Trump called the speaker a "disgrace," a "nasty" person, and a "disaster" during an interview with Fox News host Laura Ingraham.
On Sunday, Cicilline pointed to instances detailed in the Mueller report where Trump "directed Don McGahn to fire the special counsel and then to prepare false documents to deny that he was told to do that" and "directed an outside person, Corey Lewandowski, to direct the attorney general to limit the special counsel's investigationand a number of other instances of obstruction of justice that are detailed in this report."
Politics
"This is the focus of our hearing Monday," he added. "These are criminal acts, obstruction of justice, clearly impeachable offenses. So, it's rich to hear the president complain about this when he began a campaign with 'lock her up' as his bumper sticker and led an effort to delegitimize the first African-American president by claiming he wasn't born in this country."
O'Rourke, meanwhile, said congressional investigators need to probe further on Trump "using public office for personal gain for himself and for his family," in addition to Trump's relationship with Russian president Vladimir Putin, "which has never been properly explained."
"If we do not hold the president accountable, we will have set the precedent that some people in this country, because of their position of power, are in fact above the law," he said. "And if we do that, we will lose this democracy forever. So regardless of the popularity of this idea or what the polling shows us, we must proceed with impeachment so that we get the facts and the truth and that at the end of the day there is justice for what was done to our democracy in 2016 and the other potential crimes this president has committed."
Trump has claimed he never directed McGahn to fire Mueller.
More than 60 House members, comprising about a quarter of all Democrats in the chamber and including half of the Democrats on the Judiciary panel, have come out in favor of opening an impeachment inquiry.