Watch again: Pope Francis visits one of Romania's most important Catholic sites
Comments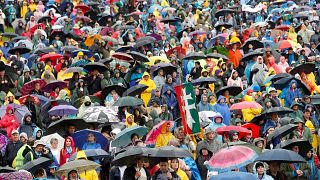 Pope Francis is continuing his visit to Romania on Saturday, visiting a key shrine in Transylvania.
You can watch footage of his open-air mass in the video player, above.
Thousands of people turned up for the pontiff at the Virgin Mary sanctuary, considered one of the most important Roman Catholic pilgrimage sites in south-eastern Europe.
The majority of devotees who expected to attend are Hungarian-speaking Romanians.
On Friday, the pope met Patriarch Daniel, the head of the Orthodox Church. In a sign of unity, the two leaders recited the Our Father prayer in the Orthodox Cathedral.
Vatican spokesman Alessandro Gisotti stressed that, while they physically prayed in the same place, they didn't pray together, an important distinction for many Orthodox.
Francis warned that all Romanians must come together even more now to confront today's challenges, noting the huge numbers of people who leave the country each year in search of jobs, depopulating entire villages and weakening the roots of Romanian culture.
"Only to the extent that a society is concerned for its most disadvantaged members, can it be considered truly civil," he said.
Pope John Paul II's 1999 visit to Romania, just 10 years after the fall of the Berlin Wall, was the first by a pope to a majority Orthodox country since the Great Schism divided Christianity in 1054.