Abortion rights activists protest restrictive new laws
Comments
By Daniel Arkin and Alex Johnson with NBC News U.S. News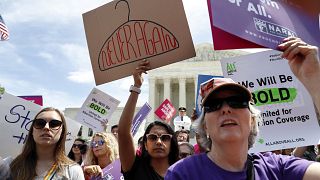 Copyright

Jacquelyn Martin AP

-
Abortion rights activists took to the streets across the country on Tuesday to protest the recent wave of restrictive state laws. Demonstrators marched, chanted slogans and waved signs in Atlanta, St. Louis and Charlotte, North Carolina, among other cities. Outside the Georgia state capitol, demonstrators held signs that read "Our bodies, our choice" and "You, yes you: Run for office."In Washington, D.C., hundreds of abortion rights advocates — including some Democrats running for the presidential nomination — massed in front of the Supreme Court.
"We are not going to allow them to move our country backward," pledged Amy Klobuchar, Minnesota senator and 2020 hopeful, from a lectern near the high court. Three more Democratic presidential candidates, Sen. Kirsten Gillibrand of New York, Sen. Bernie Sanders of Vermont and South Bend, Indiana, Mayor Pete Buttigieg, also attended the Washington rally."I stand in solidarity with those across the country to #StoptheBans," tweeted presidential hopeful Sen. Kamala Harris, D-Calif., using a hashtag that unites all the events. "We will fight with everything we've got to protect a woman's right to make her own health care decisions."Dozens of other #StopTheBans rallies at statehouses and city centres around the nation — as well as in Puerto Rico and Canada — were scheduled Tuesday.
The events were organized in part by the American Civil Liberties Union, the Planned Parenthood Action Fund, NARAL Pro-Choice America and other abortion rights groups, which predicted that tens of thousands of people would attend."This is happening right now in our world, on our watch," Lindsey P. Horvath, the mayor pro tem of West Hollywood, California, said at a rally near Los Angeles."The question is, 'What are we going to do about it?'" Horvath said.
At the Connecticut state Capitol in Hartford, abortion rights protesters were met by anti-abortion activists, who were there to oppose a bill the state House passed last week to regulate advertising by faith-based "pregnancy care centres," which don't offer abortions or abortion referrals. Critics accuse the centres of posing as medical clinics to deceive women who are seeking abortion information. The ads have "angered some of those people who are, for lack of a better term, pro-choice, pro-abortion," Lisa Maloney, executive director of Care Net Pregnancy Resource Center in New London, told NBC affiliate WVIT."But really, pregnancy centres — we're not part of that. We've never set out to be political," Maloney said.
Lily Bucko, 17, skipped school with the support of her mother to attend the Hartford rally for abortion rights."I just think it's really important that, no matter how old you are, you stand up for what is right, especially for women who can't really speak up for themselves," Lisa told WVIT. "It just makes me so angry that people who have no idea what's going on and what it's like to be a woman are making decisions for them."Alabama last week enacted the strictest abortion law in the country, making performing the procedure a felony at any stage of pregnancy with close to no exceptions. Governors in Georgia, Kentucky, Mississippi and Ohio have approved laws that would ban abortion once a fetal heartbeat is detected — usually around six weeks before many women know they are pregnant. A federal judge struck down Kentucky's law this month. Missouri and Louisiana are close to enacting similar prohibitions.
Protesters rallied in Savannah, Georgia, where hundreds marched from Johnson Square to Chippewa Square."If you're not a woman, you shouldn't be making laws about women's rights," one of them, Daniela Rodriguez, told NBC affiliate WSAV. Another protester, Nora Cook, said: "I had my first abortion when I was 23. I was an addict at the time, and that abortion gave me the grace of God I needed to get sober, and I'm now about to graduate because of that abortion."I can't imagine a world where there are people who would not have that chance," Cook said. Alabama's abortion ban and some of the other recent restrictions are intended to challenge Roe v. Wade, the landmark 1973 Supreme Court case that legalized abortion nationwide.