Watch: Comprehensive report reveals nature is on the brink of environmental catastrophe
Comments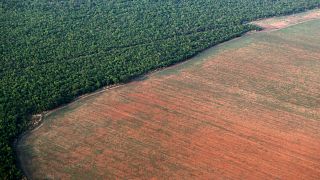 Copyright

REUTERS/Paulo Whitaker

-
A new UN report compiled by hundreds of authors from 50 countries over the past three years showed that nature is declining at a rapid rate, with roughly 1 million animal and plant species now threatened by extinction, many within decades.
"The conclusions of the report are very alarming," Anne Larigauderie, executive secretary of the UN's Intergovernmental Science-Policy Platform on Biodiversity and Ecosystem Services (IPBES), said at the press conference for the report's release Monday.
The report painted a catastrophic picture of the current situation, outlining the adverse human impact on biodiversity. Three-quarters of the environment and roughly 66% of the marine environment have been "severely altered" by human action, it found.
The damning report showed that native species are declining. More than 40% of amphibian species, 33% of reef forming corals, and over 33% of all marine mammals are threatened.
Human Impact
Since 1970, the global population more than doubled from 3.7 to 7.6 billion people, impacting nature and global consumption significantly. Plastic pollution grew ten times over the past 40 years, and there has been a 15% increase in "global per capita consumption," IPBES researchers concluded.
Humans also dump 300-400 million tons of industrial waste into the world's waters annually, and over a third of global land is now only dedicated to crop or livestock production, the report found.
The evidence "presents an ominous picture," former IPBES chair Sir Robert Watson said. "We are eroding the very foundations of our economies, livelihoods, food security, health and quality of life worldwide."
Nature is our most important "safety net," said Sandra Diaz, a professor from Argentina who served as co-chair of the report's global assessment. "But our safety net is stretched almost to breaking point."
The report's authors ranked five main drivers of change based of impact, including changes in land and sea use, exploitation of organisms, climate change, pollution, and invasive species.
On climate change, the report noted, greenhouse gases have doubled since 1980, and global temperatures have already risen by at least 0.7ºC.
Hope?
The report concluded that most international biodiversity goals looking ahead to 2020 and 2030 will not be met.
In all of the policy scenarios explored by the researchers, negative trends illustrated by the report continued beyond 2050, unless there is "transformative change."
But there is still hope, the report's authors said at a press conference Monday.
Based on 15,000 scientific and government sources, the report also draws for the first time from indigenous knowledge, noting that land managed by indigenous peoples (over 25% of global land) is faring better than other areas. The researchers recommended incorporating indigenous views and practices into current global strategies.
It also presented a variety of potential policy solutions, including better conservation and agricultural reforms, effective quotas in marine systems, and reductions in pollution and waste.
The IPBES report follows a similarly striking report on climate change released by the Intergovernmental Panel on Climate Change (IPCC) in 2018 which concluded that the world was off track for limiting global temperature rise to 1.5ºC.
But former IPBES chair Sir Robert Watson sees hope in the recent environmental movements.
"There is a groundswell of understanding that urgent action is needed if we are to secure anything approaching a sustainable future," he said.