Thousands march in Auschwitz for Holocaust Remembrance Day
Comments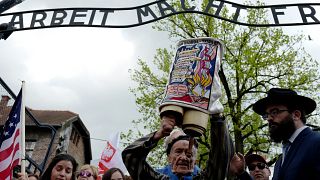 -
Thousands took part in the annual March of the Living in Auschwitz on Thursday as part of Holocaust Remembrance Day.
The event, now in its 31st year, is a three-kilometre walk from Auschwitz to Birkenau in Poland to honour the victims of the Holocaust.
You can watch the march in the video player above.
More than one million people were killed in the Auschwitz Nazi concentration camp during World War II.
Among those participating in Thursday's march are the Romanian Prime Minister Viorica Dăncilă, US ambassadors and the Ecumenical Patriarch of Constantinople Batholemew I, according to the Auschwitz Memorial Museum.
READ MORE: Journal of teenage Holocaust victim retold for social media age | #TheCube
May 2 is also a public holiday in Israel.
In an open letter to the participants of the march, Israeli President Reuven Rivlin said it is necessary to invest "in education, commemoration and history, if our promise of 'never again' is to be kept."
"Holocaust survivors are fewer in number now. Within one generation, there will be none left to testify to what they have seen with their own eyes.
"The commemorative torch is now passed on to you, the younger generation," he added.