Protests outside Brussels institutions in support of Catalan politicians
Comments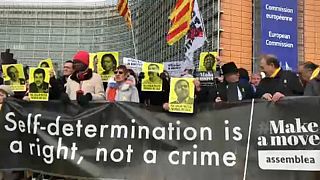 Dozens of protesters gathered outside European institutions in Brussels to express their support to Catalan politicians and activists being tried in Madrid.
Among them, three former advisors of the local government who took refuge in Belgium to escape a Spanish arrest warrant, along with former Catalan president Carles Puigdemont.
"The Spanish state intends to put two million people in front of judges. Therefore this is a trial against the October referendum. A state which is trying to judge two million citizens has a very serious problem of democracy," said Toni Comín, a former councilor of Catalonia.
There was also vocal support for the separatists from the European Parliament, with some talking of a political trial and urging European intervention.
"The European Parliament, the Commission, and the European Council must get involved," said French Euro MP José Bové.
However, in the European Parliament the majority believe that Brussels must not get involved in the internal affairs of member states. After all, they note, the independence of the judiciary is a foundation stone of democracy.
"It is not up to politicians to decide on the penalty or the final verdict. Our job is to make policies, to build a dialogue in the framework of the rule of law with respect to the Constitution," said Spanish socialist MEP Javi López.
For the People's Party of Spain, the separatists are simply attempting to dispute the institutions of the Spanish state.
"It's logical that the separatists, who want to destroy Spain, dispute the Spanish judicial system. How else could it be," asked Esteban González Pons, an MEP with the People's Party of Spain.