Israeli and Syrian military trade claims on airstrikes
Comments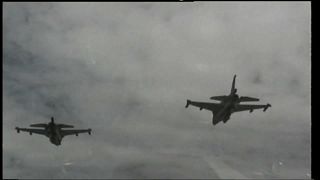 Israeli and Syrian military are both claiming to have thwarted attacks by each other's forces.
Israeli officials said their Iron Dome interceptor system shot down a rocket, fired into the northern part of the occupied Golan Heights, on Sunday. The area is popular with skiers.
But the incident happened after Syrian media and the Russia's Ministry of Defence said they had "prevented" an Israeli airstrike near Damascus Airport.
In a Twitter post, Russia claimed that Syrian forces shot down seven Israeli rockets.
During the strike an Iranian passenger plane, heading to Damascus, was forced to return to Tehran.
Israeli Prime Minister, Benjamin Netanyahu, said he would continue to target what he called "Iranian entrenchment in Syria."
The Syrian military operates a Russian-made anti-air missile system aimed at preventing attacks from Israel.