Anti-cyber-hate law in the works as France Equality Minister speaks out against online sexism
Comments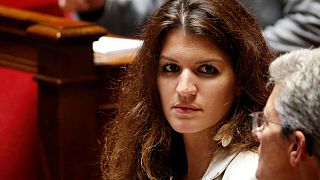 Copyright

REUTERS/Charles Platiau

-

REUTERS/Charles Platiau
Every day, Marlene Schiappa receives hateful online messages.
As France's Minister for Equality between Men and Women, she gets photoshopped images and videos of her showing her underwear in public or of inflatable dolls with her face and name on it, as well as comments calling her a number of degrading and offensive names.
"You're Macron's bitch", one of the posts on her public Facebook page reads. "You deserve to get a flash-ball right in the head", continues another. "The Elysee's whore should think about closing her legs", says yet another one.
Schiappa spoke up against the harassment she receives online in a tweet on Wednesday, posting screenshots of the things that are being written about her online and stating that "to say nothing is to cover it up".
A global epidemic
But it's not just Schiappa. As over 4 billion people now have access to the Internet, hate online has been multiplying relentlessly, to the point that the United Nations had to issue General Recommendation no. 35 on combating racist hate speech in 2012. Later, UNESCO issued a publication on how to counter online hate speech in 2015.
Yet, a European Commission fact sheet published in January 2018 showed that IT companies only remove 70% of illegal hate speech notified to them on average.
Now, Schiappa's condemnation online has brought the spotlight back on measures to be taken by the government against this phenomenon.
The issue has been on the radar for a while, since a special report on racist and anti-semitic hate comments online compiled by parliamentarian Laetitia Avia, professor Karim Amellal and doctor Gil Taieb was published in September 2018.
Schiappa has told national French radio France Inter that a team is working to deposit a law against hate content online in 2019. The law won't only concern sexist remarks: it will include racist and anti-Semitic posts online as well.
What is the new law actually going to do?
In an interview with The Cube, professor Karim Amellal - one of the authors of the report on online hate - explained the different levels on which the new law should operate.
"Social media platforms should be further and better regulated – they should be obliged to delete illegal hate content and they should have some obligation to transparency", he said, underlining that platforms like Facebook or Twitter should be at the forefront of fighting cyber-harassment.
According to Amellal, a Franco-Algerian writer who often focuses on multiculturalism and societal issues, prevention is also key in educating the civil society away from cyber harassment. Another track that's vital in moving the battle against hate crime further forward is the European one: "it's the most pertinent level to increase responsibilities for online platforms", he explained.
From a practical point of view, this would translate in a shorter legal period for platforms to delete hate content, standardisation of reporting these contents, an obligation of transparency for platforms on the issue and a block on sites spreading hatred.
"Freedom of expression is not absolute and total"
"Of course we're very fond of freedom of expression, and our goal is not to undermine it – it's to see it better respected. Unlike the United States, freedom of expression in France isn't absolute and total, it exists within a legal frame that's been in place since the 1789 Declaration of the Rights of Man and the Citizen", Amellal reminds any critic who might accuse the law of censorship. "What we forget too often is that the Internet is a public space just like a street and, as such, it's subject to the law".
As talks over this new law develop, the attacks against the Minister for Equality online don't stop. A crowdfunding campaign "for Marlene Schiappa to shut up" was set up soon after her first tweet denouncing harassment was set up on French app Leetchi and has so far collected over two thousand euros, with a little over a thousand participants so far.