Miss Algeria 2019: Organisers slam ugly reaction to beauty pageant winner Khadija Ben Hamou
Comments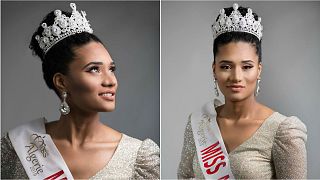 Copyright

Credit: Miss Algeria 2019
Organisers of a beauty pageant in Algeria have condemned racist remarks aimed at this year's winner.
Khadija Ben Hamou, 26, became the first southerner to win Miss Algeria.
But the team behind the contest claimed it sparked racist online behaviour and comments towards Ben Hamou for her darker skin colour.
It included the publication of doctored and demeaning pictures of her, organisers added.
The online reaction to the contest shines a light on divisions in Algeria.
More than three-quarters of Algerians live in the north of the country and most prominent public figures are lighter-skinned northerners, reports Reuters.
Southerners feel left out even though their region — rich in oil and gas — providers 95% of Algeria's revenue.
Ben Hamou, speaking to Algerian news site TSA, said she would not back down because of the criticism.
"Do not judge people without their knowledge, there is no difference between black and white," she said.
"I am honoured that I have achieved my dream," she added. "I also encourage the girls of my region to participate in the competition if they wish to do so."