US calls for Kurdish protection
Comments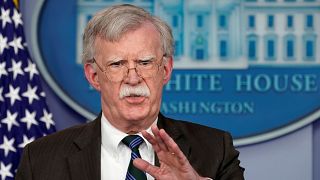 The US national security adviser John Bolton has said America's withdrawal from Syria is conditional on Turkey giving assurances it will not attack Kurdish forces in the region.
Speaking on a visit to Jerusalem, he said Turkey should not take any action that was not first approved by the United States and that "opposition forces that have fought with us" should not be endangered.
Asked whether a U.S. withdrawal would not take place until Turkey guaranteed that Kurdish fighters would be safe, Bolton said: "Basically, that's right."
Kurdish forces based in the north of Syria fought alongside the United States against the so-called Islamic State, but fear attack from Turkey after Washington announced it would be pulling out its forces from the region.
Bolton's comments come ahead of a visit to Ankara that's scheduled for Monday. Turkey sees the Kurdish forces in Syria as an extension of the separatist group the PKK.