Money for nothing? Cash falls from the sky in Hong Kong stunt
Comments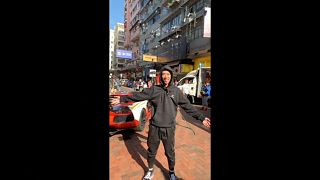 "Does anyone of you believe that money can fall from the sky?" asks a young man on the video, standing on the streets of Hong Kong.
Seconds later, cash does indeed start falling from a nearby building.
In one of Hong Kong's poorest neighbourhoods, locals were surprised on December 15 with money raining from the top of a building, seemingly thrown from the rooftop.
Hundreds of bank notes worth 100 Hong Kong dollars (approximately 11 euros) fell from the sky.
Footage on social media showed a large crowd gathered on Fuk Wa Street in Sham Shui Po looking up and collecting the cash.
The man behind the stunt is believed to be Wong Ching-Kit, also known as "Coin Young Master", the owner of Epoch Cryptocurrency, a Facebook page which promotes digital currency investment.
On December 16, Wong appeared at the scene of the stunt in his luxury car, apparently to hand out money to people, and claimed that he was going to donate money in the form of meal vouchers to the poor in that neighbourhood.
He was taken away by the Hong Kong Police shortly after his arrival and was still in police custody on Monday morning.