Money for nothing: drivers scramble to grab cash from motorway
Comments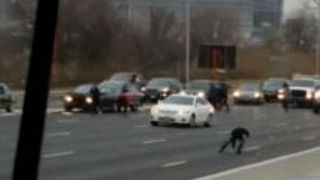 An armoured car caused two accidents on a New Jersey highway after drivers suddenly stopped their cars to get their hands on dollar notes spilt by the vehicle.
The madness took place during Thursday's rush hour near the MetLife Stadium where baseball teams New York Giants and New York Jets normally play.
The footage was taken by local commuter Danielle Shah on her way into New York City.
A local media report said the truck appeared to have a malfunction of one of its doors, which caused it to open.
Police reportedly said that anyone who pocketed the money needed to give it back.
It's unclear whether anyone was injured in the crashes.