Milan building towards a brighter, greener future
Comments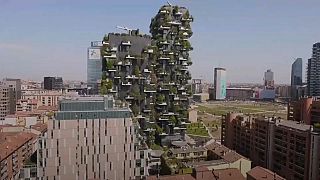 If Italy's fashion capital had a prominent colour, it's grey - not only for the blocks of uninterrupted neoclassical stone architecture, but also due to the often-grey sky that traps in pollution.
But Milan now has another colour in mind - green. It has ambitious plans to plant three million new trees by 2030 - a move that experts say could help reduce the city's muggy, sometimes tropical weather.
Architect Stefano Boeri has created a small island of greenery in the heart of Milan.
His striking Vertical Forest residential towers, completed in 2014 near the Garibaldi train station, aim to improve not only air quality, but the quality of life for city residents.
The pair of high-rises, brimming from every balcony with shrubs and trees, absorb carbon dioxide and PM10 particles, a pollutant with links to lung cancer.
Boeri says the Lombard capital's current green canopy is just seven percent.
That's well below northern European cities like Frankfurt at 21.5 percent and Amsterdam at nearly 21 percent, closer to Paris at nearly nine percent, according to the World Economic Forum's Green View Index.
By 2030, Milan hopes to increase that number to between 17 and 20 percent - on a par with present-day Tel Aviv.