Quality coaching is secret to Croatia's success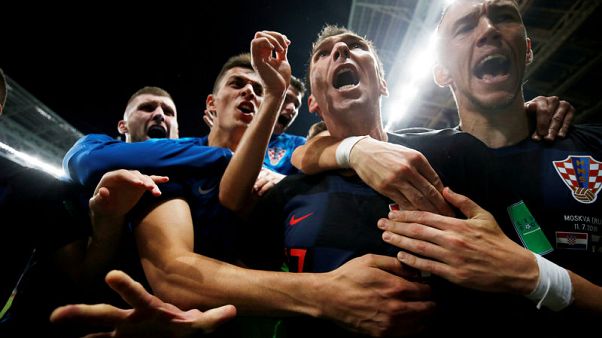 -
By Brian Homewood
GENEVA (Reuters) – A small country with a modest footballing infrastructure, Croatia has consistently churned out world class players and performed well at the top level.
Their footballing success, which culminated with the team reaching the final at this year's World Cup in Russia with wins over Argentina and England along the way, left many observers asking the question: how do they do it?
The secret may lie in Croatia's approach to coaching at grassroots level, and an emphasis on producing players who can think on their feet, according Boris Kubla, a top official from the Croatian FA's coaching department.
Kubla said that what the country of 4.2 million people lacks in facilities, it makes up for by providing top-quality coaches and staff at all levels.
"Our players are raised in conditions at the clubs which are not so good — we don't have good facilities or infrastructure," he told Reuters after giving a presentation to the International Sports Convention in Geneva. "But we invest in a good education for coaches."
Kubla said that all coaches in the country had to have a UEFA licence and were paid, even at junior level.
"We don't have any volunteers… everyone has a part-time job, or full-time job," he said.
"I know this is a little different to other countries, but in Croatia everyone has a licence and everyone gets some financial benefits. Why? Because we want them to do a good job."
When clubs and academies cannot afford to pay for staff, the local city council often chips in, Kubla said.
Croatia joined FIFA in 1992 following the breakup of the former Yugoslavia and have missed only one World Cup — in South Africa in 2010 — since entering the competition for the first time in 1998.
In addition to reaching the final this year, they were semi-finalists in 1998 and twice European championship quarter-finalists — a record that many bigger countries would be proud of.
Dozens of Croatians play in the top leagues around Europe and midfielder Luka Modric won both the major player of the year awards this year.
'TACTICALTHINKING'
Kubla said that much of the structure had been inherited from Yugoslavia, which was itself known for producing an abundance of technically-gifted players.
"These structures have been the same for 30 years, since before independence, but we are now more focussed on our own country and our own possibilities to develop our players into top players," he said.
Croatian clubs also get some financial help from FIFA's solidarity mechanism, as they get a small part of the transfer fee every time a player they raised moves clubs during his career.
Meanwhile, coaching methods emphasise the importance of tactical awareness in players.
"The tactical thinking of the player; this is the main aim we want to develop in our football schools and our national team. We don't want just robots," said Kubla.
"Today's players need to know how to react under pressure, against better opponents."
"If we have just drills in training, that leads to automation and players don't think about why they are doing that. Players are not developed for automation, they must be able to think."
Kubla conceded that Croatia enjoyed some luck on their way to the World Cup final, but said that was an important part of sport.
"If you remember the game against Argentina there were several clear chances for Argentina but they didn't score… maybe that game could have gone a different way," he said.
Yet he rejected the idea that Croatia had benefited from having a so-called golden generation of players, saying that more were rolling off the production line.
"It is one player one year, three players next year, four players next year," he said.
"For the last (Nations League) game against Spain, there were some players from the Under-21s, so several young players are coming into our national team."
There is one other important factor — the country's passion for football.
"There is a football mentality in the region. We live for football, we grow up with football, we recognise good football," he said.
"When we came back from Russia there was a national explosion of happiness on the streets, in every city, every town, every place. That can only happen in a country which lives for football."
(Writing by Brian Homewood; Editing by Toby Davis)
euronews provides breaking news articles from reuters as a service to its readers, but does not edit the articles it publishes. Articles appear on euronews.com for a limited time.