Sweden tour can illuminate Qatar issues, says Andersson
Comments
By Reuters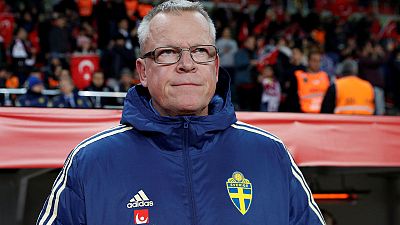 -
By Philip O'Connor
STOCKHOLM (Reuters) – Sweden's soccer tour in January will take on added significance as they visit Qatar with a view to raising some of the human rights issues that have dogged the World Cup 2022 hosts, coach Janne Andersson has told Reuters.
Qatar has faced criticism for everything from its human rights record to the conditions for workers building facilities for the event, but Andersson believes it is better to visit the area and shine a light on these issues rather than stay at home.
"To go there, illuminate the problems, to talk to them and question things is a very good thing," he told Reuters in an interview in Stockholm.
"I believe in general that taking part in something and going there is better than boycotting. That's my opinion, and that of the Swedish FA," he said.
Together with representatives from the trade union movement, human rights organisations and the other Nordic football associations, the Swedes will meet with local representatives to discuss progress on human rights issues and working conditions.
"We can take Russia as an example. We went there and we spoke about these things (human rights) and we said we didn't think it was good, and it's the same thing here," Andersson said.
The 56-year-old, who this year led Sweden to the World Cup quarter-finals and group victory in the Nations League, will take a squad mainly based in the Nordic region, seeking to identify a new generation that can keep their success story going.
They will play two games during their 10 days in Qatar, against Finland and opponents yet to be named.
"It's time to get going again. You can't hang on to old things, but obviously if I take a step back, I'm very happy (with 2018)," he said.
"I think we managed to find a mix that I was very happy with. When you look back there's always things that you could have done better, but I'm pleased overall," he said.
The Nations League group win lifted the Swedes, who were criticised for their defensive style of play during the World Cup, into the top ranks of European nations.
Andersson's focus will now switch to the Nordic domestic leagues in a search for new players who could be blooded in the upcoming Euro 2020 qualifiers, where they will face Spain, Norway, Romania, Malta and the Faroe Islands.
"It's hard to choose a squad, you have to compare so many parameters, and here we're not just picking the best players. We have to look at potential, players that can develop into internationals," he explained.
"The fact is that World Cup is going to be here in 2022 and this could be the first step in our preparations. Our goal is to get to that World Cup."
(Reporting by Philip O'Connor; Editing by Ian Chadband)