Trump blasts Cohen after ex-lawyer's guilty plea in Russia inquiry
Comments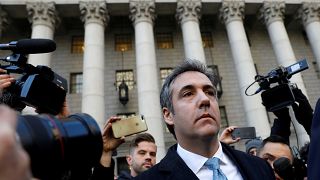 Copyright

REUTERS/Andrew Kelly
Donald Trump has lashed out at his former longtime personal lawyer, accusing Michael Cohen of being a liar and a "weak person".
It came after Cohen unexpectedly pleaded guilty to lying to Congress about a proposed Trump skyscraper in Moscow. The move stemmed from Special Counsel Robert Mueller's investigation into Russia's role in the 2016 US presidential election – and whether Trump's campaign conspired with Moscow to boost his chances.
Michael Cohen, once a member of Trump's inner circle as his self-proclaimed "fixer", said efforts to continue Trump's ambitious Moscow real estate project continued deep into the 2016 campaign, later than previously disclosed.
The president's ex-lawyer pleaded guilty before a federal court to making false statements to congressional panels. According to a court document, Cohen briefed Trump on the project more than three times, as well as members of his family.
In a separate case, Cohen pleaded guilty in August to eight criminal charges, including tax evasion, bank fraud and campaign finance violations. He is due to receive sentence on December 12.
On Thursday Michael Cohen said in court that he had said in a written statement to Congress in 2017 that all efforts relating to the Moscow project had stopped by January 2016 – whereas in fact they had continued until June that year, after Trump had clinched the Republican presidential nomination.
He said his contact with Trump concerning the project had been "more extensive" than the limited communication to which he had admitted previously.
"He's a weak person and not a very smart person," Donald Trump told reporters following Cohen's guilty plea. "He's got himself a big prison sentence. And he's trying to get a much lesser prison sentence by making up this story."
The US president has defended the propriety of the Moscow project, calling it a "deal that didn't happen". Last week he submitted written answers to questions posed in the Mueller inquiry.
Trump insists there was nothing wrong with running his business during the election campaign.
Mueller has secured guilty pleas from several former Trump aides and associates since taking over the Russia investigation from the FBI in May 2017, and has also charged a series of Russian individuals and entities.
Soon after Cohen entered his plea, the US president cancelled a meeting with Russian leader Vladimir Putin which had been scheduled during the G20 summit, citing the Ukraine crisis.