'Thames mermaid' fishes out rubbish to send a message
Comments
By Sarah Harman, NBC News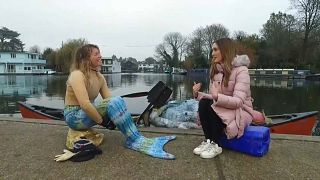 Lindsey Cole is swimming 120 miles down the Thames on a personal anti-plastic campaign.
Following behind in a canoe is artist Barbara de Moubray, along with Samantha, a sculpture made of rubbish.
"She's hollow, so the idea was that we would fill her with trash along the way. And we have way more than we need," de Moubray told Euronews.
The pair have been gathering up all kinds of litter before it reaches the ocean.
Their journey was inspired when Lindsey cut herself on plastic while free diving in Indonesia.
Along the way they have been stopping to share their message with schoolchildren and passers- by.
"That's the whole purpose of this. We want to save our mermaids, save our whales, from choking on plastic. It's just not necessary," Cole says.