Accused Russian agent Maria Butina wants to be released from solitary confinement: Lawyer
Comments
By Tom Winter with NBC News U.S. News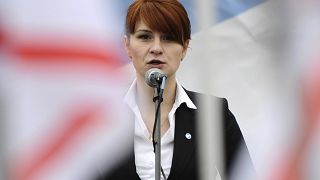 -
An attorney for alleged Russian agent Maria Butina says he wants his client transferred to the jail's general population because she has been segregated and effectively solitary confinement since her arrest in July.
Butina is accused of acting as an agent of Russia in the Washington, D.C., area and faces charges of conspiracy and failing to register as a foreign agent.
She was arrested and charged in July for allegedly conspiring with her ex-boss to infiltrate politically powerful U.S. organizations, including the NRA, and to push Moscow's agenda.
Her attorney, Robert Driscoll, told the court Tuesday that she hasn't violated any rules at the detention center in Alexandria, Virginia, and "during the weeks she was allowed to live with the general population at the Alexandria detention center, she interacted well with her fellow inmates and created no incidents."
He said Butina was transferred to administrative segregation on Nov. 21 under false pretext.
Driscoll said the jail staff told him they decided to segregate Butina came after she referred another inmate to her attorney. The facility's chief and captain, "then resorted to the decision being 'for her safety,' knowing that administrative segregation disallows an appeal internally," the lawyer said.
The detention center where Butina is being held declined to comment to NBC News and referred questions to the U.S Marshals Service, which did not immediately respond to emails requesting information.
Federal prosecutors will need to respond to the request from Butina's lawyer before a judge decides whether she should be housed with the rest of the jail's population or remain segregated.
Butina's lawyers entered into negotiations with federal prosecutors earlier this month, according to a court document.
Her lawyers and federal prosecutors requested at the time to postpone the next hearing in the case because they are currently "in negotiations regarding a potential resolution of this matter," indicating that they are working towards a plea agreement.
Butina came to the U.S. in August 2016 on a student visa. Previously, she served as a special assistant to a Kremlin crony whose description in court papers matches that of Alexander Torshin, a former Russian senator and deputy head of Russia's central bank who is close to Russian President Vladimir Putin.
Torshin was sanctioned by the U.S. Treasury Department in April 2018 along with several other Russian oligarchs and has been accused of links to organized crime, as NBC News previously reported.
In a statement issued by her lawyer, Robert Driscoll, after her arrest, Butina denied being a Russian agent. Driscoll called her an "A" student at American Universitywho has been "cooperating with various government entities for months regarding public allegations related to her contacts with various American and Russian individuals."
He said she testified behind closed doors before the Senate Committee on Intelligence and offered to speak to special counsel Robert Mueller, who is investigating Russian interference in the 2016 presidential election.
Butina was charged by the U.S. Attorney's Office in Washington, D.C., unconnected to Mueller's investigation.
The Russian Government has strenuously denied that Butina has any ties to official government conduct.