'Fuel taxes will adapt to price fluctuations,' says Macron in response to gilets jaunes protests
Comments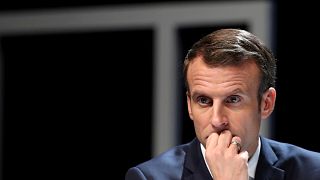 "Fuel taxes will adapt to price fluctuations," said French President Emmanuel Macron in an hour-long address on Tuesday to quell the anger of the gilets jaunes (yellow vests).
But that's the only concession the French president is making, reiterating he would not reverse the current tax policy.
For almost two weeks, gilets jaunes have blocked roads across France in protest against fuel tax hikes.
Macron also said he would create a public consultation on the ecological transition, which "would become applicable everywhere in the country" and which "gilets jaunes spokespeople could assist and suggest solutions".
The president added he understood the anger of those living outside big cities who felt the weight of the rising fuel prices but insisted he would not "give in to those who wanted the destruction of the Republic".
But despite showing sympathy for provincial voters affected by the rising fuel prices, Macron said there's a "paradox" in the country where people wanted to cut taxes but keep a generous welfare state.
"You can't be one day for the environment and the next against the rise of fuel prices," adding that French people should not forget that "today there was also an environmental alarm".
To that effect, the French president announced that four to six nuclear reactors would be closed before 2030. But that only that of Fessenheim near Mulhouse in northeastern France would be shut before the end of the current presidential mandate.
The government is also encouraging more people to car share and take public transportation instead of driving. Macron said he will also encourage the manufacturing of electronic cars and a better insulation of existing buildings.
The president reiterated his support for reducing nuclear energy to 50% in 2035.
Macron announced ecology minister, François de Rugy, would meet with gilets jaunes representatives later on Tuesday.