Meet the man trying to fight the electricity crisis in Lebanon
Comments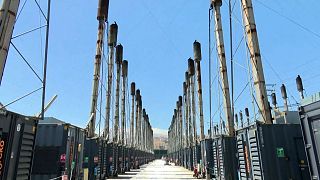 In Lebanon, daily electricity power cuts are commonplace.
In the capital Beirut, daily outages of government-supplied power can last for up to three hours, whilst in the countryside this period can extend to up to 14 hours.
Daily power outages are a problem to many Lebanese, both in cities and in the countryside
The country is facing an electricity crisis, and some experts say that the problem stems from the government's monopoly over production.
"It's not like in London, where you have the choice between multiple suppliers," says Patrick Mardini, the president and founder of the Lebanese Institute for Market Studies (LIMS).
"[In Lebanon] you only have the government company," he says, "They don't give you electricity, and if there's another company that would like to come into the market, it's not allowed by law."
In the picturesque town of Zahlé in the Beqaa Valley, one man is trying to change that.
Assad Nakad runs Electricité de Zahlé (EDZ), which was founded in the 1920's and granted a license to produce and distribute electricity - exclusively in Zahlé - before the government monopoly was enforced in the late 1960s.
Assad Nakad runs EDZ and provides electricity to the inhabitants of Zahlé
"We pay our taxes, and we have the right to have electricity," says Nakad. "The Lebanese are currently paying two electricity bills [one for state-owned electricity, the other for privately owned generators]; it's not normal in 2018. We came and said we wanted to produce electricity, get rid of the generators, and provide 24hr electricity."
When the power cuts out, EDZ engineers switch subscribed households and businesses over to electricity supplied from their small, privately owned power plant, just outside of Zahlé.
With 58 medium-sized generators, EDZ provides all the extra power required by its 65,000 customers.
According to Nicolas Saba, the technical director of EDZ, the company's electricity is also up to 40% cheaper than mainstream sources.
Despite its local success – and alternative power plants like Zahlé needing only around forty days to be built and become operational - EDZ isn't rushing to take the scheme nationwide.
This is mainly due to the state electricity company, Electricité du Liban (EDL), maintaining its control over the country's access to electricity.
And despite other Lebanese towns having applied for the right to produce their own electricity just like Zahlé, so far, each request has been refused.