Ingenious format and even games equals Nations League success
Comments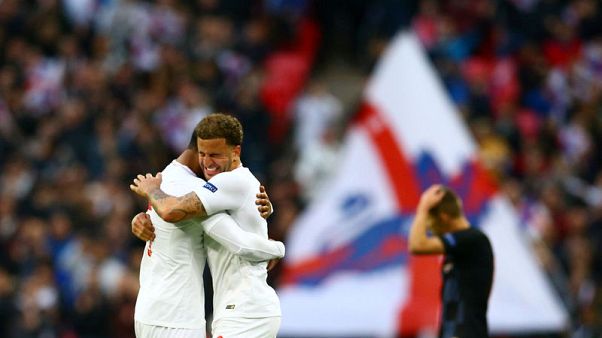 -
By Brian Homewood
ZURICH (Reuters) – UEFA's new Nations League competition has proved an instant success thanks to the apparently simple, but often forgotten, combination of an ingenious format and evenly-matched teams.
Initially seen as another unwanted addition to an already cluttered fixture list, the Nations League has proved a welcome alternative to lukewarm friendly internationals and one-sided European qualifying ties.
The last week saw England go from relegation to winning their group in eight minutes, a dramatic qualification for the Netherlands at the expense of world champions France and the astonishing humbling of Belgium by Switzerland.
Trailing 2-0 after less than 20 minutes and needing to score four times to win their group, the Swiss pulled themselves together to beat the World Cup semi-finalists 5-2.
Lower down the ladder, the competition has produced historic first competitive wins for Gibraltar and Kosovo, putting the latter within two matches of an improbable place at European Championship in 2020.
It has been a far cry from the traditional World Cup and Euro qualifying tournaments where six-team groups feature mismatches such as Germany against San Marino and Spain against Liechtenstein.
England's progress to the last World Cup was so serene that, when they beat Slovenia 1-0 to guarantee their place in Russia, bored fans threw paper planes onto the pitch instead of celebrating.
"We always had complaints from the big football countries about playing against small countries, (instead of) among each other, and complaints from small ones that they never win," said UEFA president Aleksander Ceferin. "Now, every game is interesting."
LESS IS MORE
One of the lessons from the competition is that less can be more in a sport where competition formats are often based on guaranteeing teams a set number of games, making them bigger and more complex and resulting in too many unappetising fixtures.
The Nations League format itself looked Byzantine when it was first presented but turns out to be remarkably simple.
Europe's 55 national teams are divided into four divisions, or leagues, ranging from A, the strongest, to D. These are in turn each divided into four groups of three or four teams.
The winners of each group are either promoted, in the case of Leagues B, C and D, or qualify for the so-called Final Four in the case of League A. The bottom team in each group is relegated.
The dividing line between disaster and glory can be very thin, as England and Croatia found out on Sunday.
Leading 1-0 with 15 minutes left, Croatia were heading for top spot and England for relegation — until two goals in eight minutes gave England a 2-1 win and reversed the situation.
The Netherlands found themselves facing elimination as they trailed 2-0 to Germany on Monday until two late goals gave them a 2-2 draw.
This meant they finished level on points with France and won the group on their head-to-head record against the world champions. Germany, meanwhile, suffered the embarrassment of relegation.
The smaller teams also had cause for to be happy. Instead of parking the bus and aiming to keep the score respectable, they are able to dream about winning matches and topping their groups.
"At the start of this campaign our main objective was to top the group," said Faroe Islands coach Lars Olsen — a remark he would be unlikely to make during traditional European qualifiers.
Kosovo, only admitted to international football in 2016, took one point from 10 matches as they found themselves out of their depth in the last World Cup qualifiers.
But in the Nations League, they blasted 15 goals and won four out of six games in winning Group D3.
They will now go into playoffs with the other group winners in the league — Georgia, Belarus and Macedonia — with the eventual victors earning a place at Euro 2020.
"It's great for the D league where a team can qualify for the Euro, something they could never do before," said Ceferin.
"I know some big teams are disappointed because they were relegated but this is sport and this is why it's interesting."
(Additional reporting by Simon Evans; Writing by Brian Homewood; Editing by Christian Radnedge)
euronews provides breaking news articles from reuters as a service to its readers, but does not edit the articles it publishes. Articles appear on euronews.com for a limited time.