Police officer stabbed in central Brussels
Comments
By Alice Tidey & AFP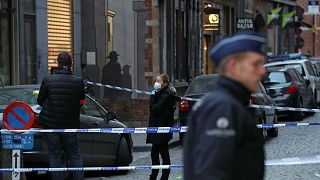 A police officer was stabbed in central Brussels on Tuesday morning and his attacker was shot, Belgium's Interior Minister has confirmed
The attack took place at around 5.30am CET outside the police station on Rue du Marché au Charbon.
The police officer, whose name has not been released yet, "has been transferred to hospital, but his life is not in danger," Interior Minister Jan Jambon said on Twitter.
"The offender was shot," Jambon added.
Police spokeswoman Ilse Van De Keere told AFP that the assailant is receiving treatment in hospital.
The Prosecutor's Office has been tasked with investigating the incident. There has been no confirmation yet as to whether it is being treated as a terror attack.