How is sexual violence still being used as a weapon of war against men and women?
Comments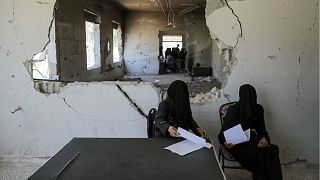 Copyright

REUTERS/Marko Djurica
"Rape as a weapon is a tool, it has an objective," be it silencing a political opponent or attacking women in societies where they are symbols of fertility, war crime lawyer Celine Bardet told Euronews at the Women's Forum Global Meeting 2018.
Her NGO, We are Not Weapons of War (WOWW), is dedicated to fighting sexual violence in conflict zones and she strives to bring the issue to the fore.
Another champion of the cause is the Grand Duchess of Luxembourg Maria Teresa, who also told Euronews about the need for action in this area.
"It is getting worse than it has ever been and it is worldwide in conflict zones, fragile situations, in camps or women fleeing from one country to another," she said. "It is absolutely necessary to raise awareness."
Her commitment to the cause has led her to host an event, the Stand Speak Rise forum, in March 2019 in Luxembourg, which aims to help end sexual violence in fragmented areas. Warzones and post-natural disasters are two situations where such incidents are rife, according to the Grand Duchess.
War crime lawyer Bardet said the issue of rape as a weapon in wartime is often overlooked.
"Nobody wants to look at sexual violence," she said. "Even when everybody knows that it's widespread, it's a big issue."
Sexual violence against men
While Bardet doesn't think rape as a weapon of conflict happens as frequently to men as women, she said there's no doubt it still happens, but often for different reasons.
"In Libya, men are involved in public life, they are political representatives, they are tribal chiefs," she explained. "If you rape them, then you humiliate them, you destroy them and then they disappear."
Another conflict that saw men affected by sexual violence was the Bosnian War, according to Bardet, who worked with victims.
Rape on migration routes
The WOWW founder has no doubt that sexual violence is widespread among migrants.
Of the migrants she has spoken to through her organisation, she estimated that seven out of 10 told her they have been raped or were the victim of sexual torture.
"When it comes to migrants, we don't know how widespread the issue is," she said.
What needs to change?
The lack of data available on the subject is one of the challenges WOWW faces.
Bardet aims to conduct the first global study into the extent of rape as a weapon of war — something she believes will allow her organisation to "offer a better response to the phenomenon".
"There are very few studies on this and which shows that this is not something we are making a priority," she said.
Bardet thinks that more needs to be done to bring the perpetrators to justice, something that the Grand Duchess supports.
"When a crime against humanity is committed anywhere, it is committed against all of us," the lawyer concluded.