Breakdancing in Tunisia steps up the beat
Comments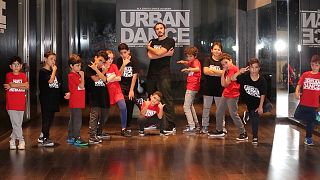 Ala Zrafi is a 30-year-old breaker (breakdancer) and the owner of The Urban Dance Academy in Tunisia.
The alternative dance style was barely known in the country 20 years ago, according to the instructor.
Back then, breakdancing in Tunisia was not recognised as a performing art form by the cultural authorities or society as a whole.
However, since 2011, Zrafi says that it gained in popularity with more than 20 dance academies opening and multiple breakdance crews emerging nationwide.
Seven years ago, and for the first time, Tunisia hosted a smaller version of 'The Battle of the Year' dance contest with more than 150 breakers on stage.
Zrafi is determined to keep bringing the style to the forefront by motivating young dancers, both boys and girls, to give it a try.
Ala Zrafi and his breakdancing students in action
"Breakdancing is no longer a boy's club," he says. "When I was young we didn't accept girls to dance with us [but] they are stepping up more and more - and I heard also they are kicking it in the streets of the city."
Nineteen-year-old breaker Ranim Boutara, and her crew The Ninja's, gather every weekend to practice for big dance events.
"My parents are still against me dancing in the street but this is my life," she says, "It's not just for boys. I want to be a champion one day."
Ranim Boutara speaking about her experience as a female breaker in Tunisia
Boutara has been the only girl in her crew for the past five years and she sometimes faces discrimination during public dance battles. What encourages her to keep going is the unstinting support of her troupe.
"We are a big family," says Boutara's friend Housem Manai, who is also a dancer.
"It doesn't matter what you are or who you are. All that matters is how you move and B-girls just kill it," he adds.
The Ninja's: one of Tunisia's breakdancing crews