Wisconsin teens' apparent Nazi salute photo was innocent, says photographer
Comments
By Janelle Griffith with NBC News U.S. News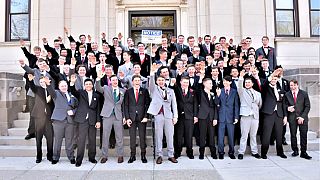 The photographer who took a photo of a group of high school students in Baraboo, Wisconsin, holding up what appears to be a Nazi salute said the image has been taken out of context.
Peter Gust told the community journalism website Madison 365 that the pre-prom photo that has been widely shared on social media was "as innocent as the boys and girls going to the prom."
Gust's son is one of the teens in the photo — most of whom are seen smiling with their right arms extended straight in the air — a gesture that echoes the notorious "Sieg Heil" salute.
The photographer, a retired teacher, said he told the teens from Baraboo High School to "wave goodbye, heading off to prom" for the picture taken in May on the steps of the Sauk County Courthouse.
But one of the teens in the image, Jordan Blue, who can be seen in the upper right corner of the photo not participating in the salute, contradicted Gust's account. Blue told the publication that Gust instructed the group of mostly white men to pose that way.
"I felt upset, unsafe, disappointed and scared," Blue said. "I felt unsafe because I go to school with them, I don't believe in what they represented and the symbol they shared … they knew it was wrong, but they still did it."
The Baraboo School District and police on Monday said they are investigating the photo.
"If the gesture is what it appears to be, the District will pursue any and all available and appropriate actions, including legal, to address the issue," Baraboo School district superintendent Lori Mueller said in a letter sent to parents Monday morning.
Gust removed the photo from his website, Wheel Memories, where it was accessible since May along with other images before the prom. However, the images are still available via the web archive.
Gust replaced the photo album with a statement that reads, in part, "due malevolent behavior on the part of some in society; this page has been modified. It is too bad that there are those in society who can and do take the time to be jerks; knowingly and willingly to be jerks! … To anyone that was hurt I sincerely apologize."