Talking points from the Premier League weekend
Comments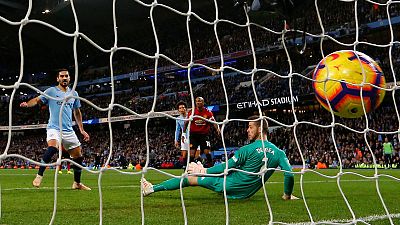 -
By Simon Evans
MANCHESTER, England (Reuters) – Premier League leaders Manchester City won their derby with United 3-1, while Liverpool kept pace with a home win over Fulham. Chelsea and Arsenal were held to home draws.
Here are five talking points from the weekend's action.
DERBYSHOWEDREALITY OF MANCHESTERDIVIDE
This should be a golden age for football in Manchester. Champions and Premier League leaders City are playing stylish and attacking winning football but only half of the city in the northwest is buzzing. The neutral can only wonder how glorious the derbies would be if United were also in the title race with the kind of team Alex Ferguson produced for over 20 years.
Sunday's 3-1 win for City flattered a United team who were outclassed in every department. Jose Mourinho's side managed just one shot on target — and that was the penalty converted by Anthony Martial.
After the game Jose Mourinho said: "The way people who don't understand football analyse it is with stats. I don't go for stats" arguing that his team were in the game until the third goal four minutes from the end.
Perhaps he had a point – the passing stats (City had 740 to United's 380) don't reflect the reality that one goal from United in the 80th minute could have undone all the great football from Guardiola's team.
But there was never really a feeling inside the ground that such an outcome was likely. United were better than Southampton and Shkhtar Donetsk, who both had six put past them at the Etihad in the previous week but were nowhere near as competitive against Guardiola's men as Liverpool have been in recent encounters.
The stat that tells the real story of the divide in Manchester is the 12 point gap between City and United. Mourinho's side are eighth in the table and the table doesn't lie. The derby was a decent effort from an eighth placed team playing the champions.
The derby — and the Premier League as a whole — need a strong United again.
NOTHINGWRONGWITHSTERLING'S SHOWBOATING
Raheem Sterling's showy stepovers in the final minutes of the game were clearly playing to the crowd and taunting Manchester United.
United's Juan Mata was furious, no doubt believing Sterling was being 'disrespectful'. Guardiola also had strong words with his winger although his concern, judging from his post-match comments, was that keeping possession would have been a better way to run down the clock.
But there is nothing wrong with a bit of gloating at the end of a derby win. City fans loved it, United supporters would have hated it — just what you expect from a derby.
Would United legend George Best have been capable of the same? He surely would. But he would have also known there was a risk of his legs being roughly swept away from him by an irate defender.
But there should still be place for a bit of gloating in a derby.
STOPPINGJORGINHOHELPSSTOPCHELSEA
Man-marking or targeting an individual player for close attention has gone out of fashion a little in the modern game but when such an approach is used it is instructive to see which players are chosen for special attention.
Everton must surely have been tempted to focus on Chelsea's brilliant Belgian Eden Hazard but it was revealing that their tactical approach instead targeted Brazilian deep midfielder Jorginho.
The summer signing from Napoli is the key to Chelsea's passing game and by pressing him hard, Everton were able to disrupt Chelsea's normal game.
It was reminiscent of the way some teams took on Carlo Ancelotti's great Milan side of the early 2000's — targeting not the obvious flair of Kaka but the influential passing of Andrea Pirlo.
WILSONCALL-UP A WELCOMESIGNFROMSOUTHGATE
While most in English football have welcomed Gareth Southgate's focus on young players, some of his selections have raised the suspicion that he may be overlooking players hitting form a little later in their careers.
Watford's Troy Deeney, one of those overlooked, had raised the question of whether you had more of a chance being a fringe player at a big club than a regular with a less-fashionable team.
So the call-up of Bournemouth striker Callum Wilson is a welcome sign that Southgate has an open mind. The forward is 26 and worked his way up from League One with Coventry City and loan spells with Kettering and Tamworth to prove himself in the top flight. His case offers hope for many others.
AUSTINRANTMERITS A LITTLELENIANCE
Southampton forward Charlie Austin was furious his goal in the 1-1 draw with Watford, which would have put the Saints 2-0 up, was disallowed by the referee.
His rant in a post-match interview could well earn him a fine from the authorities, but perhaps a little lenience is in order.
Television companies demand – and receive – interviews with players minutes after the final whistle and viewers often groan at the cliched and dull responses that are so often the result.
Austin's words were passionate and showed the kind of commitment that fans rightly expect. His interview was also great television and didn't cross the line into nasty abuse of the official.
The FA should acknowledge that the game isn't played by robots, even if such interviews often suggest they may be.
(Reporting by Simon Evans; Editing by Matthew Mpoke Bigg)
euronews provides breaking news articles from reuters as a service to its readers, but does not edit the articles it publishes. Articles appear on euronews.com for a limited time.