China's Singles' Day shatters shopping records
Comments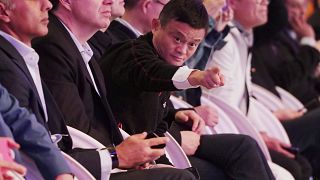 Once a celebration for China's lonely hearts, Singles' Day is now a barometer for the country's consumers. The 24-hour shopping extravaganza takes place on November 11 and outsells Black Friday and Cyber Monday US sales combined.
Chinese e-commerce giant Alibaba says sales topped 1.2 billion euros in just over two minutes from the opening of the annual online sales gala. Overall, shoppers spent more than 12 billion euros in the holiday's first two hours.
Singles' Day was started by Chinese students in the 1990s as a version of Valentine's Day for people without romantic partners.
In Chinese, it's called "Double 11", after the numbers in the month and date.
The holiday has since been co-opted by e-retailers and global brands are also getting in on the act.
"We have our own e-commerce platform with Chinese team in Shenzhen," says Bodyguard Pharm CEO Sebastian Kraus. "It was amazing. We had so many customers. And for this year, we prepared a lot of good promotion for our customers. It's amazing. You don't have anything like this in Germany."
Despite the holiday's success, it's not without its critics. China's digital retailers have come under fire for peddling low-quality and counterfeit items. Analysts suggest Singles Day encourages shoppers to prioritise cheap prices over high quality, causing them to purchase items they don't need.
The occasion also has big environmental implications.
While both Alibaba and JD.com have pledged to use biodegradable packaging, new research conducted by Greenpeace East Asia said many plastics marked "biodegradable" can only break down under high temperatures in facilities that are limited in China.
Greenpeace estimated that by 2020, "biodegradable" packaging could produce roughly 721 truckloads of trash in China every day.