Thrilling second day's judo at 2018 Tashkent Grand Prix in Uzbekistan
Comments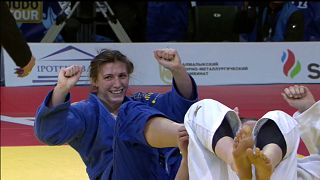 On Day 2 of the 2018 Tashkent Grand Prix, the home crowd were rewarded with a gold medal in the -73kg category by our **Man of the Day ** Khikmatillokh Turaev of Uzbekistan. The home-countryman was on electric form throughout his preliminary contests.
Benjamin Axus of France was on the receiving end of Turaev's lighting reactions when he was forced to submit by a piece of shime-waza in the quarter-final stage.
In the final, the home crowd got behind their man to overcome Igor Wandtke of Germany. In the golden score portion of the contest, the Uzbek's work rate proved him the winner. Turaev was elated as he claimed his first Grand Prix gold.
On the podium, the gold medal was awarded by Mr. Dilmurod Nabiyev, the Minister of Sport for Uzbekistan. A valiant effort of will from the Uzbek that pleased the overjoyed home crowd.
"The final was very exciting and tough, the crowd supported me all the way. They knew what I was going through. I am very happy that I became champion here," Khikmatillokh Turaev said in an interview.
Woman of the Day
Our Woman of the Day was Mungunchimeg Baldorj of Mongolia. The -63kg athlete demonstrated her powerful and effective attacking judo throughout today's tournament, resulting in her second Grand Prix gold on the IJF World tour.
In the final, she proved her worth for the top spot on the podium with an effective osoto-gari attack to finish her contest against Maria Centracchio of Italy to take the gold medal home to Mongolia, her first medal since her bronze at the 2017 World Championships.
"I haven't won a medal since I took bronze at the World Championships in 2017 and now I have won a gold medal! So I am very happy," Mungunchimeg Baldorj said in an interview.
Khamza takes gold for Kazakstan
The winner of the 2018 Tashkent Grand Prix at -81kg was Didar Khamza of Kazakstan. After going down a score earlier in the contest, Khamza equalised, forcing the bout into golden score. 
A decisive counter attack would decide the final as Dagvasuren Nyamsuren of Mongolia was forced to take silver.
Second Grand Prix title for Austria's Polleres
Austria's Michaela Polleres claimed her second Grand Prix title of her career as she reigned superior over Giovanna Scoccimarro of Germany in the -70kg final, winning the gold medal for Austria.
Move of the Day
Our Move of the Day came from Jonathon Allardon of France against Erlan Sherov of Kyrgyzstan, as a lighting fast ouchi-gari meant the French judoka progressed in today's tournament.