Celebrities flee deadly California wildfires
Comments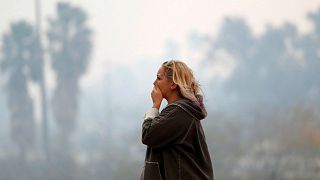 A raging wildfire on Saturday continued to sweep across Northern California — the most destructive in the state's modern history, which has claimed the lives of at least 11 people.
Celebrities took to social media to reassure fans they were safe, express their condolences and in one case, ask for news from loved ones.
US President Donald Trump tweeted on Saturday morning saying: There is no reason for these massive, deadly and costly forest fires in California except that forest management is so poor."
"Remedy now or no more Fed payments," he added.
His response was condemned by the likes of singer Katy Perry, who called the comments "heartless".
Kim Kardashian West, who was evacuated from the home she shares with her husband Kanye West in the Hidden Hills area of northwest of Los Angeles, posted a picture with her baby niece and told Instagram users: "We are all safe and that's all that matters."
Cher, who has lived in Malibu since 1972, tweeted saying the fire was close to her home.
"I'm worried about my house, but there is nothing I can do. Friends houses have burned I can't bear the thought of there being no Malibu," the singer wrote.
Actor Will Smith shared footage of the fire as it came close to his home. "We are prepared to evacuate as soon as we get the word," he said.
"If you are in the evacuation zone, go now," he added.
Caitlyn Jenner also took to Instagram and reassured fans that she was safe.
"We're out of the fire zone and are safe. Thinking about all those that are affected and hope you all are safe too," she wrote.
In a video with the post, she added: "Don't know if the house made it or not."
Singer Lady Gaga posted an ominous video on her Instagram account with plumes of black smoke overhead, telling the public she had evacuated her Malibu home.
"I'm sitting here with many of you wondering if my home will burst into flames," she wrote on Twitter. "All we can do is pray together & for each other."
Actor Charlie Sheen used his popularity on Twitter to ask if anyone had seen his parents.
His father, actor Martin Sheen, was later found by a FOX 11 news crew, and recorded a message for his children: "Emilio, Ramone, Renee, Charlie, we're fine."
"We're at Zuma Beach. We're probably going to sleep in the car tonight. We're just fine and hope you guys are, too."
Firefighters were struggling to contain the wildfires and forecasts predicted intense winds and low humidity, which could fuel the blazes and make them spread even further.