'I'll never get that picture out of my head'; Witnesses recall moment of California shooting
Comments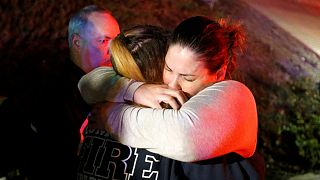 Witnesses have recalled the moment that a gunman opened fire in a California bar on Wednesday night, killing 12 people and sending hundreds fleeing in terror.
The gunman, identified as 28-year-old Ian David Long, shot at random inside the country music bar, which was hosting a "college night", before killing himself.
Erica Sigman was inside the bar when the shooting began.
"You know, shots rang out. We were hiding under the stools and there was like a little smoke bomb," she recalled.
"My friend actually saw it, because I was under the stools with her. She saw the smoke bomb like start to go off, then you just heard everyone say, 'Run!" We booked it out to the parking lot, tried to get near my car."
Eyewitness Sarah Rose-Desowen said she was "pretty sure" she had seen the shooter.
"I'll never get that picture out of my head but we dropped and we heard the gunshots, a lot of gunshots, a lot of gunshots I don't even — a lot and I was laying there," she said.
Todd Stratton, 28, was also in the bar at the moment of the shooting. He escaped unharmed, but some of his friends were shot.
"I'm just hanging out and all of a sudden I look over to the front and you start hearing what almost sounds like firecrackers going off. Because somebody came in through the front door and just started shooting people the second he walked in," he told Euronews.
"He threw two smoke bombs and just started opening fire at everybody. So, I literally froze. I got down and got my head low. But I didn't really fully recognise that it's an actual shooting, you know. Because you are in shock. You're trying to register the situation," he said.
Stratton said that while he had read many stories in the news about shootings, "it's a completely different thing when you're there".
"I'm glad that I didn't panic and that I was able to help a lot of people. I didn't freeze up and I got away okay…[But] my friends didn't and that really makes me mad."
Police are still investigating the motive for the shooting.
You can watch the full eyewitness reports in the video player above.