Watch: Were these Trump's most heated exchanges with reporters yet?
Comments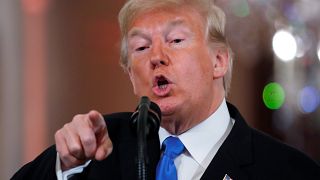 Copyright

REUTERS/Kevin Lamarque
As US President Donald Trump answered questions from the press following his speech about Wednesday's midterm results, his turbulent relationship with some media outlets was evident.
As the hour-long Q and A trundled on, at one point Trump yelled at reporters to "sit down" and regularly barked down reporters with phrases like: "Excuse me, you were not called on."
It all kicked off with CNN's Jim Acosta who first asked Trump a question on migration and pointed out Trump's campaign had an ad of migrants climbing a wall. "They weren't actors," the president said.
"I think you should let me run the country, you run CNN," he added.
When Acosta tried to follow up with a question about Russia, Trump replied: "CNN should be ashamed of itself having you working for them. You are a very rude... person... the way you treat Sarah Huckabee is..."
After a war of words between the journalist and president, Trump said CNN was fake news and, as such, an enemy of the people.
When asked whether the Republican party has supported white nationalists, Trump replied: "It's a very racist question" and called the reporter a "terrible person."
The reporter was Yamiche Alcindor of PBS Newshour, an African American reporter. "I'm simply asking the questions the public wants to know," she replied.
Trump concluded by saying "hopefully the tone can get a lot better but I really believe it begins with the media. We used to call it the press."
When asked if it began with him, the president replied: "I do have the right to fight back... I'm fighting back not for me, I'm fighting back for the people of this country."
Trump's Republican party held on to the Senate but lost control of the House of Representatives in the midterm elections.
The Democrats' majority in the US House of Representatives was their first in eight years.
It means the Trump presidency — which already had no free rein despite a Republican-led chamber — will face a significant challenge, setting the tone over the remaining two years.