Bahrain Jazz Fest promotes popular music with a regional twist
Comments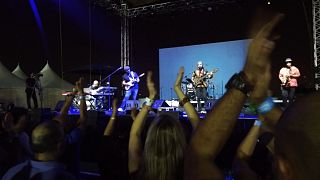 The second edition of the Bahrain Jazz Festival, held on October 26th in the capital Manama, brought together musicians and jazz fans from across the region to celebrate the 100-year-old American music genre.
Whilst headlining some international jazz acts, such as Ana Popovic from Serbia, the event promotes the emerging regional jazz scene by showcasing many local talents.
GYPSY JAZZ MEETS THE OUD GUITAR
Bahraini artists like Mohammed Rashid add their own unique twist to the popular music genre.
Rashid mixes the style of gypsy jazz, an adaptation of traditional jazz from from the 1930's, with Middle Eastern melodies.
Amongst other instruments, he plays a Middle Eastern pear-shaped guitar called the oud. The performer believes that the oud's inclusion in his compositions gives them an authentic and highly original sound.
The artist started playing this type of uncommon fusion music just one year ago.
"I think it was a cool idea in the beginning because nobody did it before," says Rashid, "I wanted to introduce gypsy jazz to our region and our music to the Western world."
FROM BANKING TO SCAT SINGING
The festival also headlined the alternative Bahrani group Likwid.
In 2014, lead singer Ahmed Al Qasim traded his banking desk job of nine years for the stage.
Since then, he's performed at festivals in Egypt and also at Saudi Arabia's first jazz fair in Riyadh.
"It's definitely a growing scene. We're getting more local musicians getting into jazz, and the audience response is growing as well," says Ahmed, "This is inspiring and encouraging other musicians that are performing different genres in Bahrain to get more into jazz."
The singer says he's planning to make his first solo album and experiment with improvised scat singing, using his voice to mimic instruments.
ARTISTS LIKE THE 'BOB MARLEY OF THE GULF' HAVE SET THE SCENE
Alternative music groups are not a new trend in Bahrain.
Before the Bahrain Jazz Fest, the country hosted an International Music Festival for nearly 27 years.
Particularly in the 1980's, many artists merged popular Western music styles with regional rhythms.
Osiris was Bahrain's first, home-grown progressive rock band and they released international albums using traditional music mixed with rock.
The late Ali Bahar, dubbed by some as the "Bob Marley of the Gulf", combined rock and reggae with Gulf style music in the late 1980s with his band of brothers 'Al Ekhwa'.
CONCERT-GOERS SHARE THE SHOW ON SOCIAL MEDIA
Nisha and Sumit from India said the Bahrain Jazz Festival was like a breath of fresh air and the atmosphere was electrifying!
Garou super fan Dmitry from Russia, fulfilled a dream of hearing the singer live in Dubai saying he loved his unique voice.
And John from Lebanon uploaded this shot of he and a friend enjoying the electronic dance music show at The Gaarten in Beirut.