Deep in the forest lie future EU bio-industries
Comments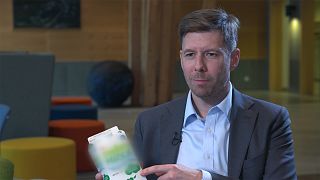 Paul Nemes is Vice-President at "Paper Province" in Karlstad. This is where innovative ideas come in and where many seminars, training courses, etc. are held. Paper Province is proud to receive suggestions from all over Europe. The cluster of industries is taken as an example of the transition to economic growth and sustainable development.
"Paper Province is a cluster organization focusing on the forest-based bio economy. As a cluster, it brings different stakeholders together. In fact Paper Province is the interface between academia, the private sector and the public sector," he says.
"We have identified test environments or tests beds as crucial in our ability to demonstrate what the forest-based economy means in practice. EU funding has very concretely contributed to actually setting up these test environments and, at the end, demonstrate the forest-based bio economy."
"Take for example, a simple milk carton as one example of how innovation in this region can make a difference. At the moment around one sixth of all these consumed globally is produced in this region. So if we can replace even a very small part of this milk carton with more sustainable materials the global impact is potentially huge."