UEFA investigates Athens stadium after fan video shows structural movement
Comments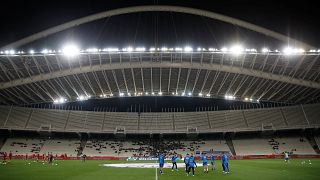 The Union of European Football Associations (UEFA) are investigating over fears Athens Olympic 'Spyros Louis' Stadium might be unstable.
Footage posted on social media last week shows Bayern Munich fans' stand swaying during a Champions League final match against AEK Athens on October 23.
UEFA confirmed they had sent a letter to the venue's management and Greek sports authorities after a delegate of the European association spotted the video.
In an effort to ease fears, the stadium's management told Euronews the structure's oscillating movement was normal and there was no reason to be concerned, but confirmed they would inspect it as a precaution.
The Olympic Stadium of Athens, named after famed Greek athlete Spyridon Louis, was built over two years and opened in 1982. As the largest stadium in Greece, with almost 70,000 seats, it has hosted numerous high profile sport events since including European Championships, European Cup games and multiple Champions League finals.
In the early 2000s it underwent extensive renovations and was reopened in time for the 2004 Summer Olympics in the Greek capital.
Music stars Madonna, U2 and Lady GaGa have also performed concerts to sold-out crowds at the venue.