Turkey's Erdogan opens new airport, set to be one of 'world's largest'
Comments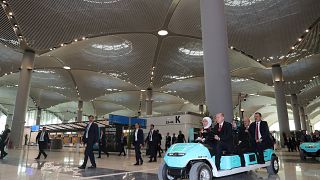 Copyright

Cem Oksuz/Presidential Press Office/Handout via REUTERS
Turkey's newest airport, planned to be the world's largest, has been officially opened in Istanbul.
Istanbul Airport will be capable of handling up to 90 million passengers by 2021, with further expansion leading to a total capacity of up to 200 million.
President Recep Tayyip Erdogan officially opened the airport on Monday to coincide with the 95th anniversary of modern Turkey's foundation, and the associated public holiday, Republic Day.
The airport is the highlight of Erdoğan's 15-year construction plan.
In the next two months, the airport will just cater to a minor number of international flights between Turkey, northern Cyprus, and Azerbaijan.
The new airport has been plagued with controversy over working conditions after the labour ministry announced February that dozens of workers had died since the launch of construction in 2015 with hundreds of protestors detained in September.
Currently, Europe's largest airport remains to be London, Heathrow which took in 78 million passengers in 2017.