Ex-South African president De Klerk hospitalised for lung ailment
Comments
By Reuters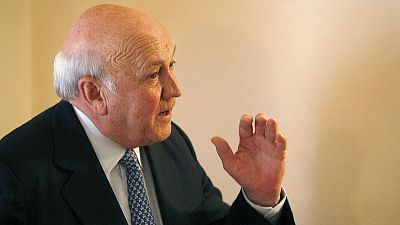 -
JOHANNESBURG (Reuters) – Former South African president and Nobel Peace Prize winner FW de Klerk has been hospitalised for a lung condition but is recovering and is expected to be discharged next week, his foundation said on Saturday.
De Klerk, 82, his country's most recent white president, became Nobel laureate jointly with his successor, Nelson Mandela, in 1993 for overseeing its transition from apartheid rule.
He was admitted to a Cape Town hospital on Friday with pneumothorax, "an abnormal collection of air in the pleural space between the lung and the chest wall," his foundation said in a statement.
Pneumothorax is normally associated with a collapsed lung, but the foundation did not specify if that was the case.
"He underwent a successful procedure this morning and it is expected that he will be discharged from hospital some time next week," it said.
(Reporting by Ed Stoddard; editing by John Stonestreet)