Arsenal of weapons found in truck of man passed out behind wheel in Florida
Comments
By Minyvonne Burke with NBC News U.S. News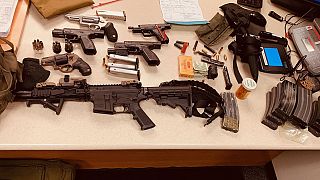 Copyright

Miami Beach Police via Twitter

-
A stockpile of weapons, including loaded handguns and a semi-automatic rifle, was found in the back of a truck after Florida police found the driver passed out behind the wheel.
David Goldammer, 32, was arrested after officers found him unconscious in his pickup with the engine running and parked in front of an alley in Miami Beach around 1 a.m. ET on Thursday.
Police said they could smell alcohol coming from the car and Goldammer almost fell when they told him to get out of the vehicle.
Two open beer bottles were found in the truck, as well as two loaded handguns. He also had a gun in the waistband of his pants, police said.
Officers ordered Goldammer to perform a field sobriety test, but he refused and was taken into custody.
A search of his vehicle turned up two more loaded handguns, a semi-automatic rifle, a pocketknife with a swastika on it, a bullet-resistant vest and a large amount of ammunition.
Police have not said why Goldammer, from South Dakota, had the stockpile in his car or what he was doing in the area.
"What's alarming in this case is that it's the early morning hours, it's Thursday morning, and there's a man asleep at the wheel under the influence of an alcoholic beverage with an arsenal of weapons in his possession," police spokesman Ernesto Rodriguez told NBC affiliate WTVJ.
"That is a deadly combination and we need to understand why he was here in Miami Beach, or South Florida for that matter."
Goldammer was charged with DUI, openly carrying a weapon and carrying a concealed firearm.