Scotland to review cull laws after hunting picture causes outrage
Comments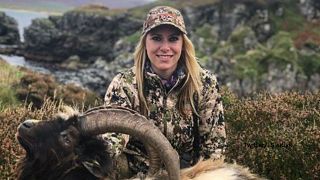 Copyright

Twitter/LSwitlyk
The Scottish government will review cull laws after an American tourist angered a lot of people on social media with a picture of her hunt on the Scottish island of Islay.
Larysa Switlyk, a TV presenter on US channel Destination America, tweeted a picture of herself posing behind the wild goat she shot.
Switlyk also shared a picture of her companion beside a white goat he hunted.
The picture drew criticism from users who called it "disgraceful" and "horrendous".
The animal welfare charity, OneKind, tweeted: "Instead of celebrating Scotland's magnificent wildlife, we are once again seeing wild animals being exploited in the name of sport. This is not the kind of tourism we should be encouraging, let alone allowing to happen in the 21st century."
Amidst the outage, local politicians called for a change in the law.
Michael Russell, a local member of the Scottish Parliament, said he wanted this kind of activity "immediately stopped" in Islay.
And while the Scottish government said in a statement that "responsible culling" was often "a necessary part of sustainable land management," and that "the culling of wild animals, such as goats was not illegal," Scotland's First Minister, Nicola Sturgeon, said the government would review the situation and see "whether changes to the law were required".
The Scottish Natural Heritage told Euronews that feral goats, like the one hunted, are an invasive, non-native species. 
Switlyk responded to the backlash her picture had created with a post on Instagram where she said the hunting trip in Scotland happened over a month ago and that she hopes "ignorant people" will "educate" themselves on hunting and conservation.