This man removed 'anti-homeless' devices from benches and ended in court
Comments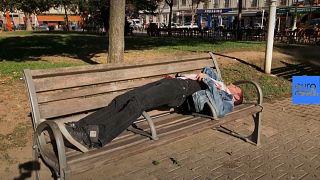 A Frenchman found himself in court after removing the armrests from public benches in the city of Lyon to allow homeless people to sleep on them.
Hippolyte, who asked Euronews not to publish his last name, and a friend decided to act after seeing people sleeping rough on the ground in public parks.
"We did this because we find it disgraceful installing structures to prevent people from lying down on benches," Hippolyte told Euronews.
He added that he saw his actions as a gesture of solidarity rather than an act of practical assistance:
"We cannot consider removing [the armrests] as helping out homeless people because letting them sleep on a bench is not really helping."
The pair were spotted one evening as they began detaching the metal separators that split the benches into individual seats and were reported to police.
They were convicted of stealing public property but walked free after convincing a judge that their behaviour was aimed at highlighting a social problem.
Hippolyte says he feels it is ironic that he has been convicted of stealing from the public when the authorities have used taxpayers' money to restrict the way citizens can have access to public property - the benches.
"So who really stole the public property?" he asked. "I think not us."
However, Régis Guillet, a spokesman for Lyon's city authorities, who instigated the prosecution, told Euronews that the armrests were not designed to target homeless people.
According to the Abbé Pierre Association, which campaigns for better access to housing, there are currently 4 million people without adequate homes in France.