NYPD pulls nearly 3,000 body cameras after one explodes
Comments
By Daniella Silva with NBC News U.S. News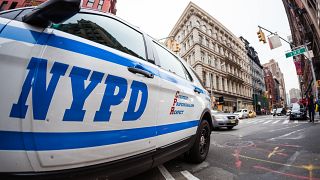 The New York City Police Department has suspended use of almost 3,000 body cameras after one of them "exploded," according to a statement from the NYPD.
The NYPD said Sunday that an officer out on a midnight tour the night before noticed smoke coming out of the bottom of his body camera and removed it immediately.
"After it was safely removed, the device exploded," the NYPD said in its statement.
No one was injured and the cause and scope of the defect were being investigated, the NYPD said, adding that the incident "revealed a potential for the battery inside the camera to ignite."
The NYPD suspended use of its nearly 3,000 Vievu model LE-5 body cameras effective immediately.
All officers assigned that specific type of camera were told to remove them immediately and bring them back to their commands, the NYPD said, and the department was in the process of collecting and removing the cameras.
The issue did not impact officers who wear Vievu model LE-4 body-worn cameras.
There were a total of 2,990 of the LE-5 cameras in use in 16 commands, the NYPD said. Overall, the department deploys 15,500 body worn cameras and plans to equip all 22,000 of its patrol officers with cameras by the end of 2019.
The Chicago Police Department, another major city police department which uses thousands of body cameras, said they use a different vendor than the NYPD.