Watch: Putin powers Egyptian President around F1 circuit in latest manly pursuit
Comments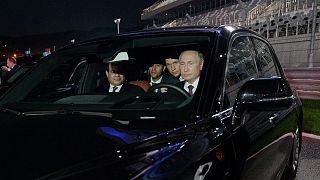 Vladimir Putin took a Russian-made luxury car for a spin around an F1 track in his latest testosterone-charged photo opportunity.
Russia's president drove his Egyptian counterpart, Abdel-Fattah el-Sisi, around the Sochi Autodrom.
El-Sisi, on an official visit to Russia, sat in the passenger seat as Putin showed him what the limousine's 4.4-litre engine could do.
The Senat, which will become Russia's new state vehicle, can accelerate from 0-100 kilometres per hour in less than six seconds and offers an "uncompromising level of ballistic and explosive protection", according to manufacturer Aurus.
Putin is no stranger to being captured doing manly things. He's driven a lorry across a bridge to the Crimean peninsula, flown planes and hang gliders, driven tanks, cruised around on a three-wheeled motorbike, taken up the controls of snowmobile, piloted a powerboat dressed in camouflage and shades and, perhaps most famously, been pictured bare-chested while riding a horse.