Canada legalises recreational use of cannabis
Comments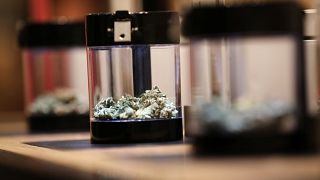 Canada has become only the second nation in the world — after Uruguay — to legalise the possession and recreational use of cannabis.
The law came into effect at midnight and locals in some communities braved the cold to buy their first legal grams of the drug.
The move fulfils a campaign promise of Canada PM Justin Trudeau who claimed decriminalising the drug would keep profits out of the hands of crooks.
But critics say it will lead to an increase in deaths on Canada's roads. 
Ian Power was among those in St John's, Newfoundland, to queue up before the ban on cannabis use was lifted.
"It was my dream to become the first person to buy the first gram of legal cannabis and here I am," he told AFP news agency.
"I am on a cloud, so excited, I can't stop smiling. I'm not cold. It's freezing outside but I am not cold.