Before and after pictures show the shocking impact of France's floods
Comments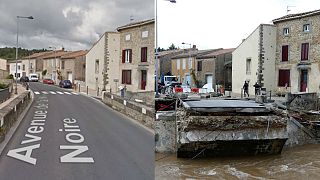 The Aude department in southwestern France remained on red alert on Tuesday after devastating floods swept the region around Carcassonne.
Death toll reports have been changing over the last 24 hours but it is thought that at least 12 people are dead while three people were still missing.
As rain clouds over the area cleared briefly, the extent of the damage caused by the deadly floods could be seen on satellite images.
Looking at the city of Trèbes in more detail you can see whole neighbourhoods covered with water as well as inundated fields.
Google Maps images from before the flood show the extent to which the extreme weather rocked southeastern France.
The city of Villegailhenc has been split in two after one of its main bridges collapsed.
In the affected areas, as well as flood damage to infrastructure, mud and debris, like branches, caused havoc.
On Monday, a resident filmed this restaurant in Trèbes and below is how the establishment looked before the torrential rain.