Maldives opposition supporters protest as court reviews election challenge
Comments
By Reuters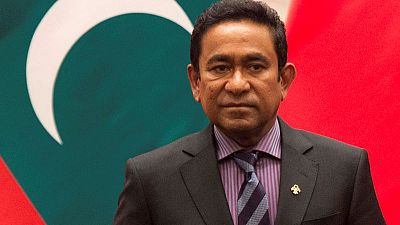 -
By Mohamed Junayd
MALE (Reuters) – Hundreds of Maldivians protested on Sunday demanding the arrest of defeated President Abdulla Yameen as its top court began to hear a petition challenging the outcome of last's month election in the island nation.
The tourist archipelago has been in political turmoil since February, when a state of emergency was imposed by Yameen, whose critics have accused him of running Maldives with an iron fist, jailing political opponents and Supreme Court judges.
"This is our right. They can't change it. They can't play around with the votes," Abidha Afeef, a 55-year old protester told Reuters. "Yameen has to go."
Yameen initially conceded defeat last month after an official count showed joint opposition leader Ibrahim Mohamed Solih had won the election by a margin of 16.8 percent in a surprise result.
The Maldives Election Commission said the vote was free and fair, with turnout of 89.2 percent. And the opposition has been trying to secure a smooth transition of power, due on Nov. 17.
Last week however, Yameen's lawyers approached the Supreme Court, saying supporters had complained about rigging of votes and fraudulent ballot papers.
Four members of the Election Commission have fled the island nation, due to alleged intimidation and threats, Reuters reported on Saturday. Yameen's party has dismissed the allegations. [L4N1WT044]
The allegations from Commission officials follow some domestic media reports of a complaint to police by the company that printed the ballots. The complaint alleged Yameen's party attempted to bribe its workers to give false statements backing Yameen's challenge.
Yameen's party called the complaint "ludicrous", saying it was a tactic to divert attention from the court case.
The country of some 400,000 people is popular with tourists, and being located near key shipping lanes in the Indian Ocean it has become important as China and India compete for influence in the region.
China is engaged in building up the islands' infrastructure as part of its Belt and Road Initiative (BRI) to boost trade and transport links across Asia.
(Writing by Ranga Sirilal; Editing by Euan Rocha/Keith Weir)