UAE's passion for dragon boating showcased at 11th Abu Dhabi Dragon Boat Race
Comments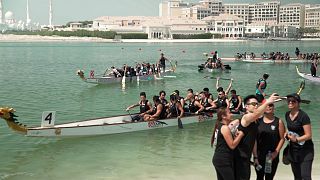 The 11th Abu Dhabi Dragon Boat Race got underway on Friday, October 5th. Featuring 70 teams from across the United Arab Emirates, participants competed along a 1km stretch of the capital's coastline.
Each team is made up of 10 to 20 paddlers, who have to move in perfect unison to power a 275kg fibreglass boat bearing a dragon's head and tail.
The low-sided vessels can reach speeds of up to 18 km per hour.
Inspire Middle East's reporter Salim Essaid went on to try one of the vessels, as the Desert Dragons team warmed up
This season, an all-women's team smashed their division's 200-meter race.
Melissa O'Brien, is a member of the Dragonfire team and also a full-time mother of two children. She started practicing dragon boating ten years ago and says that the competition is not all about trophies, but the good company too.
The Dragonfire celebrate their 200-meter race win
"We are almost all, without exception, mums," she says, "Working women, stay-at-home mums. We're very much like 'paddle sisters'. We're very much a family of women that support each other and look out for one another."
Emirati competitor Anan Al Amri, a five-year member of the Desert Dragons, also believes that although upper body strength plays a big part, harmonious teamwork is key for the win.
"The best thing is when you're sitting down in that boat, you're one, you're in sync," she says.
HOW DID DRAGON BOATING FIRST COME TO THE UAE?
The ritual of dragon boating is believed to have originated more than 2000 years ago in southern China.
The more modern athletic aspect began in Hong Kong in 1976 and since then it has become a popular competitive sport around the world.
In the UAE, dragon boating wasn't widely practiced until Canadian entrepreneur Jason McKenzie introduced the idea about 12 years ago, by establishing an after-work club for enthusiastic paddlers.
Jason McKenzie, who introduced dragon boating in the UAE, is picture during the 11th Abu Dhabi Dragon Boat Race
When he first started, there were only 20 teams and he had to personally coach them. Today Jason is the race organiser of the UAE Dragon Boat Association and he's proud to see how many boating enthusiasts have embraced the watersport.
"When we started this there was no awareness whatsoever of dragon boating, nobody knew what it was," he recalls, "Now we have about 100 teams that compete in regular competitions throughout the year."
UAE'S DRAGON BOATING IS CRUSING OVERSEAS
Whilst the UAE doesn't yet have a national team of its own, mixed teams of resident expatriates and Emiratis get together to compete in local and international competitions.
A significant global tournament win was the 2012 triumph by The Dubai Diggers at the Club Crew World Championship in Hong Kong.
Daniel Wood, a Dubai-based lawyer and Dragon Boat aficionado, is proud of his team's success abroad.
"We're the first team from the Middle East to win a gold medal," he says, "The last time in Australia we won a gold medal in the mixed two-kilometers and we beat a team called the Philippine Army that hadn't lost in five years."