Feel like Hurricane Michael came out of nowhere? This is why.
Comments
By Elizabeth Chuck with NBC News U.S. News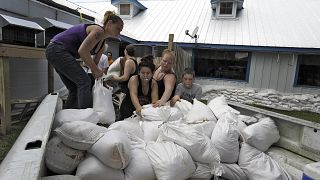 Copyright

Chris O'Meara AP

-
For more than a week before it made landfall, meteorologists were sounding alarm bells about Florence, the devastating hurricane that slammed into the Carolinas on Sept. 14.Yet with Michael— the powerful hurricane that made landfall as a Category 4 storm in the Florida Panhandle on Wednesday — word of the storm came just days in advance.The reason why, according to forecasters: Unlike Florence, which formed off of Africa long before it arrived on U.S. shores, Michael just originated in the southwest Caribbean — closer and fewer days before landfall.
Still, Michael was "no surprise," according to NBC News meteorologist Sherri Pugh."The position difference changes your forecast lead time," she said. "That's why we could see Florence coming across. We were tracking what it would be for days. With Michael, we still had the same amount of information; it just formed closer."Michael made landfall with winds of 155 mph. The fast-moving storm is the first Category 4 on record to hit the panhandle in more than 150 years. Evacuation orders were issued earlier in the week.On Wednesday morning, Florida Gov. Rick Scott warned in a tweet, "The time for evacuating along the coast has come and gone. First responders will not be able to come out in the middle of the storm. If you chose to stay in an evacuation zone, you must SEEK REFUGE IMMEDIATELY."
News
Joel Cline, a meteorologist and tropical program coordinator of the National Weather Service, said that while Michael's shorter starting distance from the U.S. coast meant there wasn't as much time to issue guidance, "that doesn't mean that the people there aren't well-warned.""Things just don't sneak up on forecasters anymore," he said. "There's enough to see there, but then the cause is just the sheer distance. Maybe instead of two weeks [notice] ... they only have four days."
Regardless, psychologists say more advanced notice and more warnings to evacuate don't necessarily translate into people heeding warnings better."I think everybody expects weather to be a little bit unpredictable, and if we get too much notice about something, we discount it a little bit," said Pamela Rutledge, the director of the Media Psychology Research Center, a nonprofit that applies psychology to media and technology behaviors.And as long as there is something to back up the idea that a threat is imminent — others around them heeding evacuation orders, multiple news sources or forecasters telling them that danger is headed their way — people will start taking precautions to avoid the danger, no matter how much notice they are given, Rutledge added.But less notice means less time to prepare, she noted."So everyone has to go to the store and buy what's left of the water, whereas if there's weeks to prepare, the stores can stock. There's more ability to help the people prepare," Rutledge said.The Atlantic hurricane season starts in June and peaks around Labor Day, Cline said, and runs into November, or, rarely, December. Michael is considered a late-season hurricane, and it is typical for late-season storms to originate exactly where Michael did — in the southwest Caribbean Sea before moving into the Gulf of Mexico — as opposed to off of Africa, where hurricanes earlier in the season form."As the season goes on, of course things tend to get cooler in the middle part of the ocean, and so therefore those don't sustain themselves," Cline said of systems off of Africa. "Maybe you get a tropical storm or a depression, but it never really forms to this gigantic hurricane."Meanwhile, the waters in the Gulf of Mexico — more shallow — tend to be warmer, providing a more suitable environment for storm systems later in the season.It is not unheard of for a late-season hurricane to eye the Florida Panhandle. Notable ones include Hurricane Kate, which made landfall as a Category 2 storm in November 1985. And in October 1995, Hurricane Opal hit as a Category 3.