'World's biggest' hot air balloon festival held in New Mexico
Comments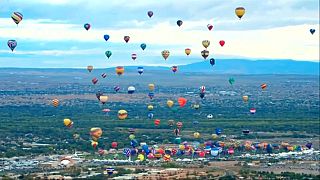 Hundreds of hot air balloons filled the sky over New Mexico, USA this week.
The Albuquerque International Balloon Fiesta was launching its 47th edition. The event, which is running under the theme of "Get Carried Away", began on Saturday (October 6) featuring daily laser light shows, various balloon flying competitions and five morning mass ascensions.
This year's festival features more than 500 hot air balloons and pilots from all over the world.
It is said to be the largest gathering of balloonists in the world.
The festival ends on October 14.