UN Ambassador Nikki Haley resigns
Comments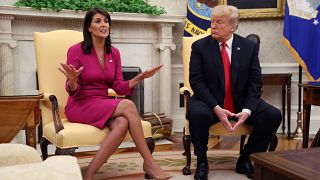 US President Donald Trump has accepted the resignation of UN Ambassador Nikki Haley on Tuesday.
Haley is expected to leave her UN post at the end of the year.
During a press conference at the White House, Trump said Haley informed him six months ago that she wanted to take some time off.
"Thank you for this opportunity Mr. President, it's been an honour of a lifetime," Haley said at the press conference, adding: "I'll never truly step aside from fighting for our country. But I will tell you that I think it's time."
Trump praised the former South Carolina governor as having done an "incredible" job, adding that he hoped she would come back to the administration in another capacity in the future.
"Nikki Haley has been very special to me...[she's] done an incredible job...fantastic person," Trump said, adding how Haley has made the UN ambassador post a more "glamourous" and "important" position.
Haley's resignation is one of dozens of departures in the Trump administration. She's admitted that she's not always agreed with the administration's policies and authored an Op-Ed in The Washington Post criticizing an anonymous senior administration official who penned a piece in The New York Times describing the chaos inside the Trump administration.
"If I disagree with something and believe it is important enough to raise with the president, I do it. And he listens. Sometimes he changes course, sometimes he doesn't. That's the way the system should work," Haley wrote. 
Haley, whose unexpected resignation fuelled rumours she may seek a ticket in upcoming political races, said she will not run in 2020 and will instead campaign for Trump.
Trump said he will name Haley's successor within the next two of three weeks.