Five Serie A talking points from the weekend
Comments
By Reuters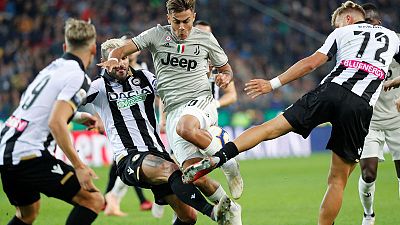 -
MILAN (Reuters) – Juventus maintained their perfect start to the Serie A campaign, making it eight wins in as many games by beating Udinese 2-0 away, while Napoli stayed six points behind thanks to a 2-0 win at home to Sassuolo.
Here are five talking points from the weekend's games.
ANCELOTTITINKERSAGAIN
Napoli fans could pretty much predict their starting line-up when Maurizio Sarri was coach but that has not been the case since he was replaced by Carlo Ancelotti.
The team which started Sunday's 2-0 win over Sassuolo was his 10th different lineup this season and featured eight changes from the side which began the Champions League match against Liverpool four days earlier.
"I'm not crazy, if I move the players around so much, I do so because I see reliability and quality in the squad," he said.
"Everyone is committed and deserves to play so there is no risk when you have reliable players at your disposal."
JUVENTUSMOREDOMINANTTHANEVER
Udinese coach Julio Velasquez summed up the feelings of most Serie A teams about facing Juventus after his side became their latest victims.
"You can't play against this Juventus side, they are too strong for everyone," said the Spaniard. "We played well, we did the best we could, but we were up against a team who are candidates to win the Champions League."
PELLISSIERKEEPS UP REMARKABLESCORINGRECORD
Chievo striker Sergio Pellissier's goal in their 3-1 defeat at AC Milan on Sunday made little difference to the result but ensured the 39-year-old kept up a remarkable record.
Pellissier has scored at least one league goal in each of the last 17 seasons for Chievo where he has spent nearly all of his career, staying at the club even when they were relegated to Serie B for one season.
"The great thing about sport is that it's not just age that counts," he said. "It takes longer to recover, but intuition and quality improve with time — experience counts."
Chievo are still winless and bottom of the table with minus one point, having had three deducted for accounting regularities.
ATALANTALOWEREXPECTATIONS
After overachieving in the last two seasons when they finished fourth and seventh, Atalanta are once again back in the lower half of the table.
The Bergamo-based team are 17th in the 20-team table with six points after winning one of their opening eight games, prompting coach Gian Piero Gasperini to lower expectations.
"Our position in the table after eight rounds is what it is. We have to accept it and completely change our objectives for the season, focusing on picking up some points and staying away from the danger zone," he said.
WE WERENEVER IN CRISIS, SAYSGATTUSO
AC Milan extended their unbeaten run to eight matches in all competitions with their win over Chievo and coach Gennaro Gattuso has rubbished the idea they were ever in a crisis.
"The performances were always there, we were just missing the three points," he said. "It wasn't a crisis before."
However, he demanded more from Turkish midfielder Hakan Calhanoglu.
"He's not been brilliant, there is something lacking," he said. "Once he gets back to his best, he will create lots of chances for (Gonzalo) Higuain."
(Writing by Brian Homewood; Editing by Peter Rutherford)