British journalist to be expelled from Hong Kong
Comments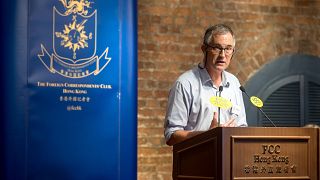 -
Hong Kong has denied the visa renewal of British journalist Victor Mallet, a move that has raised concern over worsening press freedoms in the city.
No reason was given for the visa denial but some China watchers believe this may be the first time this has happened to a reporter in Hong Kong, a Chinese city that still champions press freedoms. The visa refusal is believed to be due to a public talk Mallet moderated with pro-independence activist Andy Chan, whose political party - the Hong Kong National Party - was recently banned by the Hong Kong government in September.
Mallet, the Asia News Editor for the Financial Times and vice-president of the Foreign Correspondents' Club in Hong Kong, has been a journalist for more than 30 years. The talk with Chan, called "Hong Kong Nationalism: A Politically Incorrect Guide to Hong Kong under Chinese Rule," was criticised by Chinese authorities who condemned the talk and urged organisers to reconsider the event.
The Financial Times said in a statement on Friday that this is the first time they've encountered this situation in Hong Kong and said authorities didn't give a reason for the rejection.
The FCC in Hong Kong issued a statement, calling on authorities to rescind their decision.
Chris Yeung, the chairman of the Hong Kong Journalists Association, said this is the first time he's heard of a journalist being denied a visa renewal and worries that this is proof of Beijing's encroaching influence on Hong Kong's affairs.
"In recent years, the Chinese central government has tightened its control over Hong Kong," Yeung said from Hong Kong by phone, adding that incidents such as Mallet's are going against the 'one country, two systems' agreement. Yeung explained that Chinese authorities want journalists to be reporting on issues that tow the party line and punishes those who don't. But, the concept of independence is where the government draws a "red line, or bottom line that Hong Kong people, including the media, shouldn't go beyond."
One country, two systems
When Britain returned Hong Kong to China in 1997, it was agreed that the island would remain semi-autonomous for 50 years under Chinese rule. However, over the years, Hong Kong has felt the weight of Beijing's influence from politics to press freedoms.
Reporter expulsions in China
In the past, China has expelled foreign journalists working in the mainland who have reported on sensitive issues such as Tibet or the Uighurs, a Muslim minority population in Xinjiang, where it's believed one million ethnic Uighurs are currently being held in indoctrination or "re-education" camps. Most recently, the government has expelled Buzzfeed's China bureau chief Megha Rajagopolan for her work in Xinjiang.